The Marion Church Of God (Seventh Day) has a gift for you. You are receiving free access to a huge, streaming, online, access-on-any-device library of over 10,000 video Bible studies, leadership videos, kids shows and more.
To sum it up — it's like the Netflix of Bible study videos. You will have FREE access to thousands of video resources to help you with parenting, marriage, discipleship and more. It includes content for all ages and stages of life, and all of your family members are invited to set up their own accounts as well.
Thanks from all of us at the Marion Church Of God (Seventh Day)!
There are 3 ways to sign-up and register:

Simply click this link and you will be able to set up your account immediately. Or copy/paste the following link into your browser: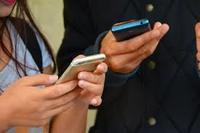 Text – Simply text RIGHTNOW132 to 41411 from your smart phone. Moments later, you will receive a link that you can follow to set up your account!

QR Code – Anyone with a smartphone may sign up for an account by opening their phone to the camera and hovering over this code. Your phone will then automatically take you to the website to activate an account.